History and Significance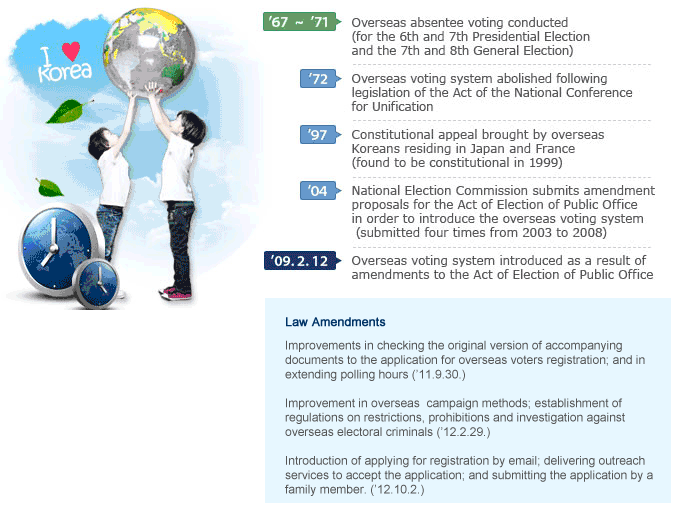 1967 ~ 71 Overseas absentee voting conducted (for the 6th and 7th Presidential Election and the 7th and 8th General Election), 1972 Overseas voting system abolished following legislation of the Act of the National Conference for Unification, 1997 Constitutional appeal brought by overseas Koreans residing in Japan and France (found to be constitutional in 1999), 2004 National Election Commission submits amendment proposals for the Act of Election of Public Office in order to introduce the overseas voting system (submitted four times from 2003 to 2008), 2009 Overseas voting system introduced as a result of amendments to the Act of Election of Public Office
Implications of introducing the overseas voting system
Realization of the people's basic constitutional rights
The right to vote is the most fundamental and indispensable right to ensure national sovereignty, and for this reason, limitations on suffrage should remain minimal. Yet for many years at least three million overseas Korean residents were denied their natural sovereign rights because they resided outside their homeland.
However, the declaration of the unconstitutionality of the Public Official Election Act Article 37-1 (Voting right given by residential registration) and 38-1 (Absenteeism permitted only for domestic residents) by the Constitutional Court on June 28, 2007, restored overseas Koreans' right to vote.
Elevation of the Republic of Korea's status as a democratic nation
Although Korea is ranked among the world's top 10 economic powers and is considered an exemplary new democracy, it is the last among OECD countries to introduce an overseas voting system. The introduction of an overseas voting system in Korea is a barometer of the country's rise to a politically advanced nation, and carries significant historical meaning as a symbol of the full maturation of democracy in the country.
The Economist, a Britain-based weekly magazine on international politics and business, praised Korea's voting system as being one of the world's best. The National Election Commission fully realizes and understands the absolute necessity of managing the Korean overseas voting system successfully, utilizing its experience and know-how in managing domestic elections as a solid foundation to ensure such success.
Increase in the rights of overseas Koreans and enhanced patriotism
The right to vote is a sacrosanct human right and the act of voting is significant as it legitimates a nation's power through the political consensus of its people.
The introduction of an overseas voting system allows overseas Koreans to exercise their right to vote, enabling their opinions to be reflected in existing national policies and for new policies to be established specifically for them, enhancing their rights and interests. Furthermore, overseas voting heightens the pride and patriotism of the people of the Republic of Korea wherever they are located by giving them the fair opportunity to vote in major elections that shape the future of their home country.
Active response to the age of internationalization and globalization
The success of the overseas voting system will serve as an important opportunity for the Republic of Korea to enhance its image on the world stage, something that is very important in this age of internationalization and globalization. In addition, overseas voting will lay an invaluable foundation for gathering the voices of Koreans from around the world and for implementing and developing national policies for Koreans abroad. Moreover, the realization of transparent and fair overseas voting will increase Korea's national brand value and help build a global Korean network, contributing ultimately to national unity and development.