In the case where ballots are prepared and distributed to voters at polling stations
Procedure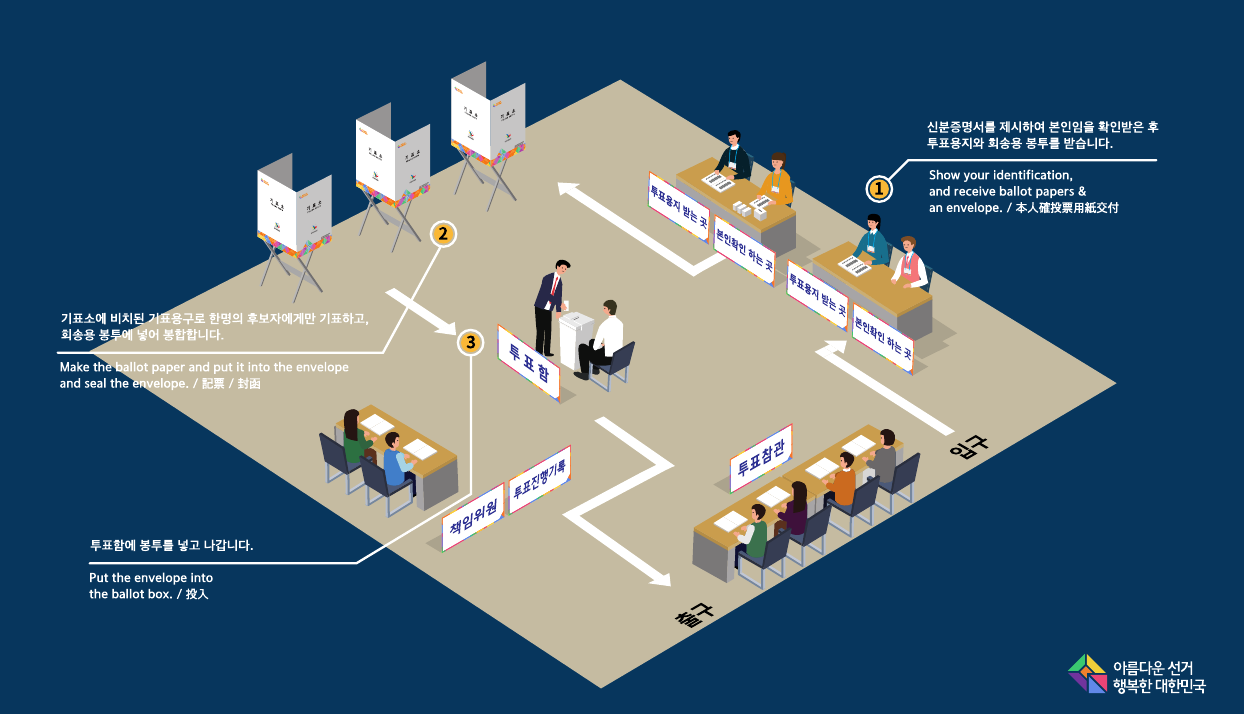 The place to ehcek your ID - You should present a certificate of ID and confirm the ID and the registrations on the list.
The seat to deliver ballots - You should receive a ballot and an envelop for returning.
Polling booth- You should select one candidate ballot at the Voting Station, fill out the ballot in the relevant space with a tool provided for filling-out, and then put it into an envelope for returning.
The ballot sealling placeYou should come out tof the polling booth and seal the envelope for returning.
Ballot box - You should put the envelopte for returning and come out.
Polling station
Go to an overseas polling station installed by an overseas diplomatic mission.
Overseas polling stations should be installed in overseas diplomatic missions; however, under inevitable circumstances, such as spatial constraints and others, overseas polling stations can be installed in Korea centers and other alternative facilities. The locations and names of substitute overseas polling stations will be announced online no later than the 20th day prior to election day.
Voting period
The National Election Commission will designate a period of up to six days from the 14th to the 9th day prior to the election as the voting period and announce it online by the 20th day prior to the election.
Voting hours
From 8 am to 5 pm (The overseas voting period and hours are based on Korean time).
Voting requirements
When ballots are prepared and distributed at overseas polling stations
Present your ID.
※ ID: A picture ID or passport, resident registration card, public official ID card, or driver's license issued by a Korean government agency and/or public organization to identify the voter, or an ID card and/or certificate with photograph, name in full and date of birth issued by the government of the residing country to identify the voter.
Documents to confirm your nationality(for overseas voters registered by email)
Documents that can prove you did not acquire any other nationality and these are notified by the competent Overseas Returning Officer including a green card(Alien Registration Receipt Card), immigrant visa.
※ Voters have to show the documents at the polling station. If there is not a photo on it, voters have to present another photo ID
Voting procedure
Select a candidate or one political party with a mark using the stamp provided and seal the return envelope with the ballot in it.
Ballot paper prepared and distributed at overseas polling stations
Voting
Overseas voters and overseas absentees

Visit an overseas polling station
Present ID
Documents to confirm your nationality
Receive a ballot paper and a return envelope

Overseas polling station

Overseas polling stations operated from the 14th to the 9th day prior to election day
(6 days)
Open from 8 am to 5 pm every day (including holidays)

Overseas ballot sealed in the return envelope and handed over (chief commissioners of overseas polling stations)

Overseas ballots handed over to overseas returning officers under the supervision of counting observers

Overseas ballot
(overseas returning officer)

Ballots kept in the vault or other secure locations in overseas diplomatic missions