Celebration of the 60th Anniversary of the Establishment of
the National Election Commission of the Republic of Korea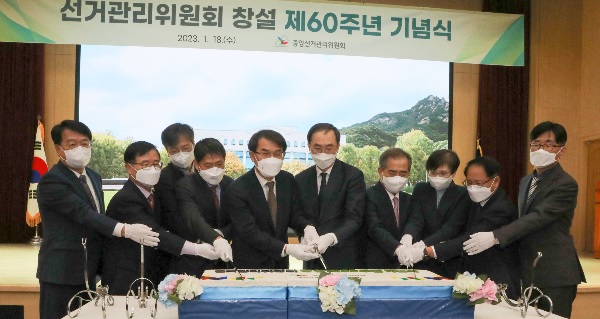 Chairperson Rho Tae-ak (at the center-left), the Standing Commissioner (at the center-right) and the Commissioners
The National Election Commission (NEC) of the Republic of Korea, on January 18th at the NEC Secretariat Office, held a ceremony to mark the 60th anniversary of the establishment of the NEC, with Chairperson Rho Tae-ak and around 300 staff participating.
Chairperson Rho said in his commemorative address that "the NEC has made efforts to serve as a foundation for the development of democracy in Korea since its establishment in 1963," and added that "it will study policies and alternatives to respond to the increased public awareness and changed election environment." In addition, Chairperson Rho said the NEC would continue to play a role as a constitutional institution for the sustainable development of democracy, and asked for the people's unwavering trust and support for the NEC.
To gain the trust of the people, the NEC has set three goals for 2023 as the following: 1) continue innovation to realize fair elections trusted by the people, 2) solidify the foundation for democratic development, and 3) strengthen future-oriented election management capabilities.